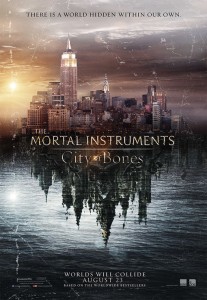 Tribute got the chance to speak with the director for
City of Bones
, Harald Zwart. They talk about why Harald chose specifically
this
book to adapt, and the intricate details to the set...
What was your favorite part about filming in Toronto?
It reminded me of a European city, so after filming, there was always a great place to go and have dinner or just walk around the streets of Yorkville. I just really fell in love with Toronto as a city.
Do you believe in "monsters, nightmares and legends whispered around campfires,"—as heard in the movie?
(Laughs) That's a great question! Well, I do now!
What made you change your mind? Was it the movie?
Yes, after exploring the idea that us humans, we are limited in our perceptions—we don't see everything that's around us—I do believe that there's more between heaven and earth than what we actually have the capacity to take in.
There are so many movie adaptations of novels being released right now, why did you choose to be a part of this one?
I just really liked the tone of the book. It's got a good blend of humor and it takes the characters seriously. I think the journey of Clary, who is kind of in a detective story, trying to figure out her own mind—I thought it was wonderfully, psychologically complex and I know that young people are so smart that they can easily be challenged by these things, but they'll all get it.
What makes a novel fit to be turned into a movie?
I can only speak for this one, but the way Cassandra writes is very visual. Once I start reading it, all the images pop into my head and all these wonderful places that she is describing and the portal. It's just the mood of the whole thing, just lent itself to any visual inspiration. Look at what the fans have been doing for years! It's clear that this book has inspired young, creative fans all over the world to keep making their own movie posters, their own version of the movie trailer—so they all seem to be very visually inspired by this.
Read the full interview over at
Tribute